Noir Patchouli Eau de Parfum 60 ml Histoires de Parfums
Pathchouli Noir, is a woody and aromatic perfume for men and women where Patchouli is the protagonist, a plant that began to be cultivated and used in the East and its aroma exhales spirituality thanks to the intense and fascinating aroma of its leaves.
Mysterious and captivating, Noir Patchouli is a fragrance with a multitude of nuances where delicate floral notes are followed by exotic oriental notes.
Woody and Oriental Fragrance
Top Notes: Patchouli, Coriander, Cardamom
Heart Notes: Patchouli, Floral Notes, Berries
Base Notes: Patchouli, Musk, Leather, Vanilla
16 other products in the same category:
Sticky Fingers de Francesca Bianchi, es una fragancia Amaderada y Especiada para hombres y mujeres. Un pachulí suntuoso y elegante es el protagonista de esta creación 'rock-chic'. Una apertura especiada y chispeante...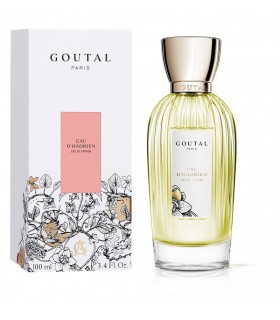 Eau D'Hadrien is an emblematic parfum of Goutal. Burning sun and the blinding light of Tuscany add to the charm of the cypress-lined terraces. The hottest hour of the day is the best time to sink into the soft shade...
Angelo de Fiume de Linari is a Floral, Fruity and Gourdmand perfume for men and women. Ethereal and sensual like an angel. A gourmet of opulent fruity notes of wild cherries, raspberries, Italian orange and...
Ambré Lumière de Molinard is a perfume for men and women that serves as a true source of inspiration for those authors of the most refined novels, remembering those beautiful fantasy myths in which the protagonists...
 Black Knight by Francesca Bianchi  is inspired by the renaissance captain Giovanni Dalle Bande Nere, along with his loyalty, Spartan lifestyle and moral commitment inspired this creation. He imagines the smell of a...
Nerotic is an Aromatic and Woody perfume for men and women of Laboratorio Olfattivo. It contains 100 ml Perfume Hypnotic, sensual, sexual, erotic, nerotic ... Nerotic. Nerotic is a charming and addictive...
 Citrus Noir by Molinard is an aromatic citrus perfume for men and women. In the tropics of the Philippines, there is a lemon like no other, the Kalamansi, green on the outside, yellow on the inside, offers a rich...
Lavender is an eau dLae parfum by Molinard for women and men, Nicknamed blue gold, Lavender embodies the soul of sunny summer fields in Provence. Travel to the heart of the garrigue... With an evanescent freshness,...
Jardin Exclusif de Mancera, is a perfume for men and women like a captivating nectar of citrus and velvety fruits united by the alliance of a floral and gourdmand accord. An addictive and captivating fragrance....
Revolution is a perfume created by Maison Trudon for men and women that permeates the skin and concentrates on human emotions throughout the day. It melts, leaving an air of mystery and intrigue around the body....
Oud Tobacco by Montale is a perfume para hombres y mujeres from Montale. Perfume hipnótico y delicadamente suave that combines the mezcla las notas of Tonka y Tabaco. Los citrícos, el comino y el zumaque rojo nos...
Oh, ooOoh …oh ( mist, wood, wind and guitar ) The Eau de Parfum 'Oh, ooOoh ... oh' by Miller et Bertaux, for men and women, speaks of a wooden house facing the sea that we barely distinguish after the mist, a cup,...
Musc by Molinard, is an eau de parfum for men and women, Musc sincerely emphasizes the characteristics of a refined and sensual echo, before flourishing in the softness of the skin. Content 75 ml Like a warm and...
Ambre is an eau de parfum by Molinard, for men and women that reveals the refinement of a noble and elegant material. A subtle oriental accent that exalts its amber notes, destined to maintain the mystery of...
Angel's Dust by Francesca Bianchi is a powdered boudoir from times gone by, a lover is putting on lipstick while waiting for her lover to arrive.Face powder floats in the air, mixed with the scent of roses and the...
Indian Study by Miller et Bertaux is a tribute to sandalwood, which combines the Mysore Sandalwood and the Amyris Sandalwood. These two types of sandalwood are recognized for their purifying properties, and spicy...
Customers who bought this product also bought:
Recharge for Lampe Berger catalytic lamps. Content 500 ml Aquatic Freshness is a Citrus Energizing Head Notes: Grapefruit, Orange Heart Notes: Grapefruit, Pineapple Base Notes: Musk, Peach
Refill for catalytic lamps from Lampe Berger. Content 1 Liter A fragrance that takes you to a world of authenticity. Synonymous with freedom, it transmits values such as honesty and frankness. The freshness works...